Once conservative and resistant to change, the financial industry has now become the poster child for digital disruption. Challenger banks and neobanks, fintech and insurtech startups, blockchain and cryptocurrency — the face of the financial sector is changing right in front of us.
To survive in this fierce competition and meet the needs of digital natives, a sound digital transformation strategy has become banks' top priority. In banking, digital transformation means leveraging technology to redefine existing operating models and reshape the ways that value is delivered to customers.
In pursuit of digital transformation, banks and financial institutions are increasingly turning to artificial intelligence (AI) to drive positive changes in front- and back-office operations, while reducing costs, generating revenue, and even creating new value propositions. In fact, AI is touted to add $1.2 trillion in value to the financial sector by 2035, according to recent research.
Now, let's see exactly how AI enables digital transformation in banking and financial services.
Enhanced customer banking experience
In 2020, improving digital experiences for consumers is the number one priority for organizations, as evidenced by this Financial Brand survey. And artificial intelligence plays well into that philosophy, with its ability to analyze customer behavior and glean deep, actionable insights.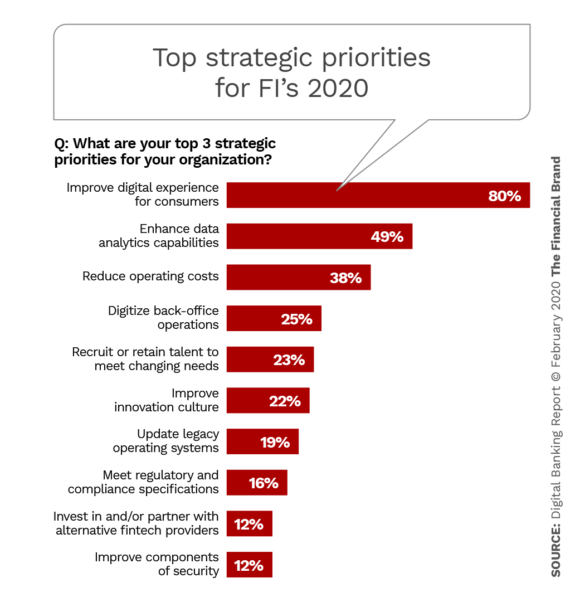 Our hyper-connected world is awash with data — ubiquitous smartphones, wearables, IoT devices, and more. However overwhelming, these massive data sources harbor valuable knowledge waiting to be uncovered. By connecting dots across multiple touchpoints and crunching through historic and real-time data, machine learning-powered financial solutions can help banks better understand customer preferences, identify new opportunities, and create more personalized banking journeys.
Another way AI is transforming digital banking experiences is through improved customer service. Powered by conversational AI, intelligent chatbots are now able to take user support beyond simply answering the most common questions. By using natural language programming (NLP), AI-driven virtual agents can understand a user's financial behavior and act like their personal financial assistant, tracking their spending habits, giving them tailored money-management advice, and even paying their bills.
Improved risk management
They say profit is the reward for taking risks, and in the financial industry that can't be more true. Faced with credit, operational, market, cybersecurity, reputational and other types of risks, banks are under increasing pressure to find more effective ways for handling uncertainty and mitigating disruptions in the new era of digital ecosystems.
Racing to bridge the glaring gap in lending, fintech startups are relying on artificial intelligence for fast and accurate credit risk evaluation. By leveraging both financial and alternative sources of data — like social media and smartphone records — AI algorithms deliver enhanced customer intelligence and support informed decisions on borrowers' creditworthiness and risk of default. One such alternative lender is Lenddo — a Singapore-based company that leverages personalized AI-driven credit risk grading to drive financial inclusion.
Traders and investment advisors, too, can benefit from AI-driven risk prediction. Underpinned by sophisticated NLP technology, advanced trading tools are able to tap into public data, including news, articles, press releases and social media, and gauge public sentiment. By combining real-time sentiment analysis with historic market data, portfolio performance, stock prices etc., AI can help identify patterns in financial markets, create predictive risk models, and discover new investment opportunities. 
Real-time fraud detection
Fraud is a multi-billion-dollar problem in the financial sector. In the next five years, fraud losses are actually projected to rise to $35.67 billion worldwide. With the convenience that comes with mobile payments, evolving digital channels, open banking initiatives, and other digital disruption components, there are also increasing concerns about identity theft and fraudulent transactions.
Traditionally, banks used rule-based systems to analyze massive sets of structured data, but the method yielded many false positives. Artificial intelligence is changing the rules of the game. To mitigate rising threats and offer stronger protection, ML-based fraud detection solutions analyze rich customer data collected across multiple channels, identify behavioral patterns, and flag any suspicious activity in real time. With that, AI-powered cognitive models are continuously learning from their mistakes, which makes them more accurate and robust over time.
Intelligent back-office automation
Productivity improvement and cost reduction are also high on the digital transformation agenda as the existing back-office environments are still riddled with legacy bottlenecks and ineffective manual workflows.
AI helps digitize and automate back-end operations in a way that promotes operational efficiency and drives employee satisfaction. Alkymi, a New York-based startup, is enabling financial organizations to apply machine learning to data extraction processes. The solution ingests and normalizes unstructured data from emails and documents, significantly reducing time spent on data entry and freeing up bandwidth for higher-value tasks.
In addition to customer service bots that remove the burden of staff having to deal with repetitive questions, AI-driven banking solutions can help with employee onboarding, accelerate IT and HR requests, facilitate compliance checks, and more.
AI is the future of digital transformation in banking
In a world where the digital arms race is fully on, banks and fintech companies are turning to artificial intelligence as a key driver of digital transformation success. From revamped frontline customer support to smart back-office automation, the potential of artificial intelligence is unmatched.